Get the good stuff – equipment
Before I became a window cleaner, I used inferior (and frustrating) equipment and tools to try and do the job. It was never perfect and I spent copious amount of time trying to get my windows to looks clean. But that quickly changes as soon as I set up this business. I learnt that having good quality equipment is key. And if you're keen to do your windows and save on the cost of getting them done, then here's what you'll need.
You can get the basics at Bunnings but a specific cleaning shop will have a larger range and quality products to choose from. Most are open to the public so don't be afraid to venture in and have a poke around. Just google "window cleaning supplies" and there you'll find some great sellers of up to date products. Some of the better ones in Sydney are, Window Cleaning World  or Cleaners Warehouse.
Here's what you need to buy:
Bucket  –  You will need a wide enough bucket to fit the squeegee and mop in. This is important as you want to move quickly when cleaning and not fuss around with buckets that are too small as you'll be frustrated. Her's one that is pretty pro but it's the right size for the job. They can be found at your local hardware store so you don't have to go to any particular cleaning warehouse to buy one. This Oates one I found via Bunnings is pretty good.
Squeegee – This is probably the most important piece of equipment.  There are lots of versions  out there and the cheaper ones usually leave streaks. They are just to hard t work with because they don't swivel, usually have a bad rubber blade and as a result the job takes longer.  You don't want that. A good squeegee is really a 3 piece instrument assembled for you. The purpose is so that you can replace parts of it. And there's a reason for that. Great streak free window cleaning will require a rubber that hasn't been overused. Otherwise it's not going to be pleasant. I have expensive rubbers that last longer but even so, I need to change them regularly. So buy a few for when you need to switch and throw the rubber away.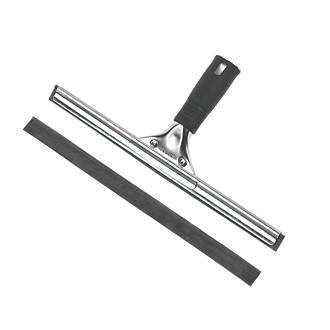 Mop  – This comes in two pieces: the plastic t-bar and the sleeve. When the sleeve gets dirty, you can take it off and  put it in the washing machine. This is used to apply the suds to the window before you squeegee the window clean.. It's usually attached by Velcro or buttons. 14 inches is a good length. And you can find these at all good cleaning shops.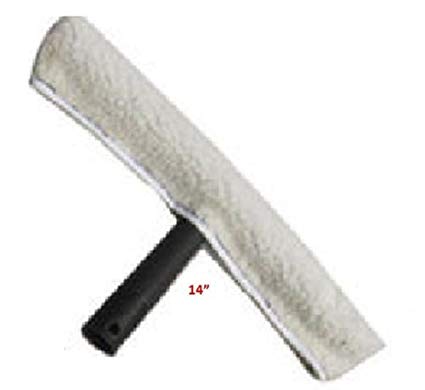 Detergent – This one's tricky. You can pick something up at the cleaning shop OR you can use a good quality home dish washing liquid. As long as you  get lots of suds you'll be right. It's really up to you how "professional" you want to be. Either way you can't go wrong. A lot of people talk about vinegar…but honestly if it was that good, we'd all be using it. To get that super clean look, you need lots of suds to really clean away and dirt and build up.
Other bits you need
some good rags that won't leave fluff behind. Go for  an old towel and some microfibre cloths. We have a lot of those handy as they get dirty real quick. So get yourself a few.  For higher windows, a step ladder will be needed as well.
You may also need  a scraper for the bits that need a bit more work like paint or cement  or bird poop. Just be super careful using this tool and get some advice (even Youtube it) to find out how to use it properly. Otherwise you can end up with scratches on your windows…and you don't want that.
Now as far as very high windows, there are long poles to use and this might take not only cost, but practice. So it'sup to you how whether you want to do this yourself and get people like us to finish the job for you. And that's what we do best.
If you're thinking this is too much, and you'd rather get someone else to to do the work for you (we don't blame you) just click here, fill in your details or call us on 0405 970 415, and we will give a quote to get it all done. Easy.