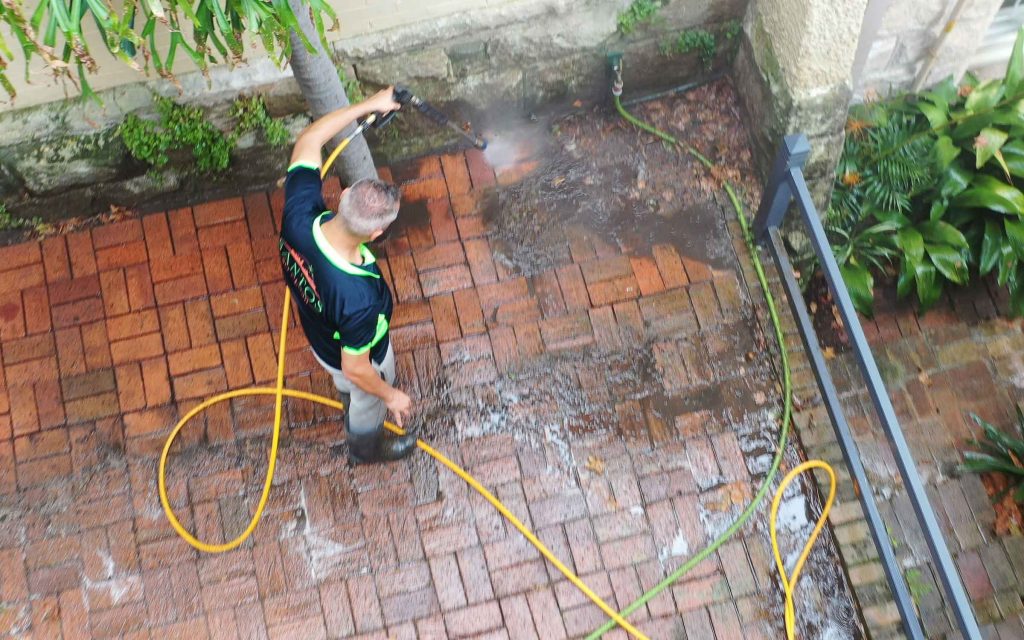 We are in the business of cleaning and we get loads of questions about what a service like window cleaning or pressure cleaning might cost.
It might be that you want a house wash, or your driveway cleaned or have that pathway spruced up because mold has taken hold and it's slipper and grimy. Whatever it is, there's always that question…how much does it cost?
How pressure cleaning is calculated
Generally speaking when we are asked to quote on pathways, driveways, around pools and courtyards, we go by the square meter. To give you a ballpark figure you're looking at about $3-5 dollars per square meter. Now the variance in price mostly has to do with how grimy or dirty or moldy the area is. If we have to go over it a couple of times to really get the dirt or stains off, we will. But we'll know that just by looking at it and the price will reflect that.
How house washing is calculated
House washing generally goes by size and whether a house is one storey or two. An average 3 bedroom house on one level costs approximately $300 and a two storey approx $500. But obviously if it's a ginormous 5 bedroom house then the price will reflect that. If outdoor balconies, pathways etc are added, the price will be calculated accordingly. But generally as areas get added, the price becomes discounted. And better still, if you add window cleaning to the job, then we offer a great discount. It just makes sense and the customer wins too.
What's included in the cost?
Most of the time, to stop mold in it's tracks, and just really lift all dirt from surfaces, diluted chlorine is used. There really is no other way to get an outstanding result. It's so diluted though, (usually about 1 part to 10 parts water) that it never hurts the plants or grass. So the chlorine is included in the price.
Why hire a professional pressure cleaning company?
We have expensive high PSI machines that are at industrial strength that will pretty much do the job not only with incredibly better results but we know how much pressure to apply based on the type of area we are cleaning. Not all areas are the same and we've seen some silly errors made by DIY folk, that are irreparable. We also know the right combination of products to use so we don't do any damage to anything around the property. The difference is a no brainer once you see the results. Plus you don't have to clean as often as if you had your own Bunning's bought machine. And finally we have super long hoses for those hard to reach places.
What to look for when hiring the right Pressure Cleaning company
Always make sure at a minimum they have the following:
Public Liability – are they covered just in case?
Great Reviews – check out their reviews…like ours here.
Longevity in the business – how long have they been doing this kind of thing?
A professional approach – did they turn up when they said they would? Are they listening to you? Do they know what they are talking about?
The rest is gut feel as it's your property and you want the right people to respect that. If you do, they should too.