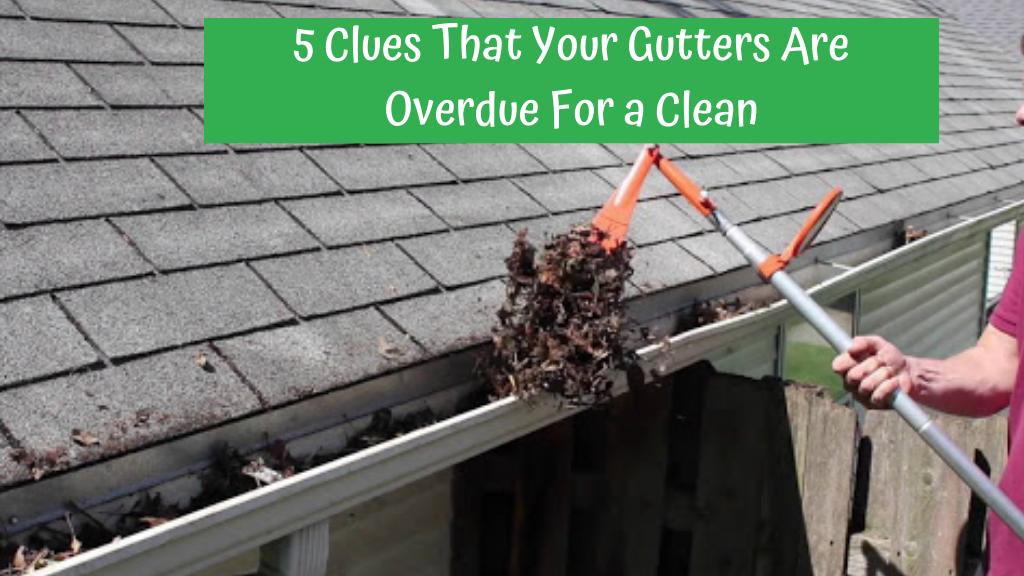 There are times when you absolutely forget to clean your gutters. Life gets busy and other things take precedence. We get it. Here's the thing though…not cleaning them regularly can be a costly mistake in the long run. Unless you have a regular schedule of cleaning, whether it's yearly or 6 monthly, they will eventually need a clean.
For some people however who don't have a schedule, there's a good way to check or assess if it's time. Here are 5 absolute tell tale signs that your gutters need a good clean. And the sooner you get onto this, the better.
1. Plant growth
This is an easy one. And really you can't miss it. Have a look right around your gutters. Are there plants growing into or out of them? Plants have a knack of getting into gutters with their roots and suddenly you a big problem. Or sometimes they wrap themselves around the gutters. Either way, you have to get on top of this and cut back the plant pronto.
2.Sagging gutters
Over time, gutters can start to hang. It may be due to age (it's time to replace them) or they are heavy with dirt and debris that they are becoming unhinged. This is not something to ignore. It can be as simple as getting them secured again but without a doubt, checking to see what's in them is your first step.
3.Birds nesting in them
Yikes, this one isn't good either. If you're not hearing them yet, you will. And you'll need to get them removed. Not only are they nesting in the gutters but they collect twigs and leaves and now you're gutters are really blocked.
4. Water spilling over the sides of the gutters
This is an easy one to spot. On a rainy day, walk around and see if this is happening. It's an obvious sign of gutters in need of maintenance. You don't have to climb up to see, you will just know there's so much debris and dirt that the water just isn't flushing through.
5.Stains on the exterior walls of the house
Usually if water is spilling over or from under the gutters, in other words the water isn't being held by the gutters, over time you'll see stains down the walls. They can be yellow or gray or sometimes black. But any stain coming down from the gutters onto the walls (which doesn't look good) means you've got dirt and what not sitting in those gutters for too long and again, the water might be just sitting into he gutters.
At the end of the day, keeping your gutters clean and maintained with the help of a professional gutter cleaning expert in Pymble means your essentially look after a whole lot more of your house because the damage leaking gutters can cause are enormous and expensive. Having this tell tale signs in your mind allows for quick assessment and action to get the job done.